light-years: ly004

Marta De Pascalis - Sky Flesh

Pre-order Sky Flesh
If there's one specific component that grounds 'Sky Flesh', it's focus. Italian musician and sound designer Marta De Pascalis flexed her technical muscle on 2020's 'Sonus Ruinae', layering various sounds and processes in an attempt to touch the sublime. In contrast, 'Sky Flesh' is a single thought, composed using just one instrument: the Yamaha CS-60. A slimmed-down sibling to the gargantuan CS-80 - the analog synthesizer used by Vangelis to create his iconic 'Blade Runner' score - the CS-60 was released in 1977, a few years before the MIDI protocol was introduced to help standardize production methods. MIDI would change the electronic music landscape completely, offering a level of control that De Pascalis consciously relinquishes, preferring to highlight expressiveness and timbre, elements more readily associated with acoustic instruments. The album arrives as much of the wider experimental scene busies itself with algorithmic composition and AI-assisted modeling; De Pascalis chooses to work instead like an organologist, harnessing the CS-60's mercurial magic to suggest deeper truths about our evolving relationship with machines.
Currently based in Berlin, De Pascalis grew up in Rome, where she was surrounded by atrophied ruins that piqued her interest in decay and memory. Over her last three albums, she used tape loops and advanced synthesizer techniques to create a unique sound world that's guided by her musical philosophy, rather than a specific aesthetic. As she's developed her technique and confidence, her music has become even more idiosyncratic, and at this stage in her career she's stripped her sound down to its core elements, focusing on emotion, narrative and mystery. Using timbres that recall a time when electronic music still waved towards the future, De Pascalis' melodic content is rooted in early and Renaissance music, almost cleaving it from history entirely. Fittingly, 'Sky Flesh' is released on acclaimed Italian composer Caterina Barbieri's burgeoning light-years label, the ideal platform for her labyrinthine, cosmic vignettes.
De Pascalis introduces us to the album with a triptych that establishes her sonic landscape immediately. On 'voXCS60x', 'The Shapes We Buried' and 'Blue to Blue', she presents the CS-60 in all its malleable glory, running its serrated, ring-modulated oscillations through booming reverb and reducing them to vapors. Despite not working with MIDI sequencing, De Pascalis exerts a remarkable level of command, bending her compositions into abstract shapes without sacrificing their evocative earworms. It's an almost ritualistic process that centers a musician who's not only in dialog with technology but with the cosmos itself, channeling its puzzles through her machines. This soul-searching is most evident on 'Yueqin', a dreamily ornate, moonlit composition that breathes through filigree melodic flourishes and triumphant fanfares, signaling a distant romance in the heavens.
De Pascalis takes a brief detour on 'Commas Light' and 'Cut Off Horizon', investigating tonality in miniature and coaxing expression out of her delirious runs of notes with uncommon ease. It makes the conclusion of 'Làsciati' and 'Equal to no Weight' hit that much harder, the former a dissonant dance into psychedelia and the latter an almost ten-minute cloud of obscured harmony. With all traces of the CS-60's sound humbled by tides of noise, it's an apt finale, climaxing with suggestive echoes that pointedly disappear into silence. With 'Sky Flesh', De Pascalis doesn't freeze time, but expands its reach, offering a fresh perspective on cosmic music that's steeped in riddles and wonder.
Written, produced and mixed by Marta De Pascalis
Mastered by Giuseppe Ielasi
Photography by George Nebieridze
Design by Nicola Tirabasso
light-years: ly003
Caterina Barbieri - Myuthafoo
PRE-ORDER MYUTHAFOO

Italian composer Caterina Barbieri has spent the best part of a decade breaking apart the rigid structures of electronic music, using advanced, idiosyncratic techniques to build bridges between academic experimental, dance and pop landscapes. Her breakthrough moment came in 2017 with the Important Records-released "Patterns of Consciousness", a confident fusion of analogue synthesis and algorithmic compositional methodology that defined her unique voice. And when she followed it with "Ecstatic Computation" on the legendary Editions Mego label in 2019, wide acclaim ensued, with critics praising its potent fusion of minimalism and trance-inducing synth experimentation. Pitchfork has described her music as "a mind-altering journey" and "a dreamachine for the ears".
Since then Barbieri has worked hard to subvert expectations at every turn, offering an eccentric spin on the remix album with "Fantas Variations" - a selection of collaborations and reworks from friends and inspirations like Kali Malone, Jay Mitta, Evelyn Saylor and Kara-Lis Coverdale - and developing a modish articulation on last year's poetic and densely layered "Spirit Exit". Described by NPR as "deeply psychedelic and, by extension, subversive," the album was more than just a selection of tracks; it launched her own light-years label and arrived alongside an ambitious live experience that developed her philosophy in multiple dimensions, bringing in additional voices like Bendik Giske, Nkisi and Lyra Pramuk and bespoke visuals from Marcel Weber and Ruben Spini.
"Myuthafoo" was written at the same time as "Ecstatic Computation", which Barbieri regards as a sister album. Both albums are based on creative sequencing processes that playfully unravel Barbieri's deep-rooted interest in time, space, memory and emotion. And since she was set to re-release "Ecstatic Computation" on her own light-years imprint with an exclusive new track, it made sense to accompany that album with this intimately entangled set of unreleased recordings. At the time, Barbieri had been touring excessively and her process began to shift in response to that nomadic, interactive energy. Using the Orthogonal ER-101 modular sequencer, Barbieri manually programed patterns into the device and fed them into her arsenal of noise generators, trialling different combinations at each show.
If an idea worked well in the live environment, she would put it to one side, letting longer pieces breathe and transform as they sprung to life and developed organically. It's a process she relates to her interest in cosmogony, the study of the origins of the universe; her music is rooted in the limitations of a small number of options that branch out into a much larger structure, eventually reaching towards an open-ended cosmos of possibility. From 'Math of You', it's clear that the sounds are grounded in a similar sonic philosophy; blipping synth sequences nudge alongside each other harmonically, disrupting trance's addicting euphoria with filigree polyrhythmic pulses. Like 'Fantas' before it, the track is focused around emotionally affecting repeating phrases, but a closer examination reveals hidden intricacies as these phrases flicker like illusions, dissolving and dissipating as they snake and weave.
The album's title track is its most generous and most tender, blunting Barbieri's usually razor-sharp sequences into rubbery möbius strips that twist romantically, bending back on each other. It gazes at the stars from an atemporal vantage point, relying on synapse-popping psychedelic logic as well as established physics. 'Sufyosowirl' meanwhile is rigorous and rhythmic, as melodically charged as pop music and as soaring as Jean-Michel Jarre's lavish stadium electronics. Closing track 'Swirls of You' encases Barbieri's celestial sequences in gaseous vapors, allowing the music to ascend slowly and purposefully until it flickers and fades to nothing. Barbieri's music sounds as if it has a life of its own, endlessly expanding and transmuting until it's able to develop its own rules and gestures. "Myuthafoo" teases an ecosystem where technology and biology are intertwined, and where the past, present and future are part of the same essential narrative.
light-years: ly002
Caterina Barbieri - Ecstatic Computation Reissue
Three years after the original release date of Caterina Barbieri's career defining album Ecstatic Computation on Editions Mego, the Italian artist reissues the record on her newly found own label light-years. The re-issue features an unreleased track available as digital download as well as a beautifully reworked version of the original cover art.
Ecstatic Computation revolves around the creative use of complex sequencing techniques and pattern-based operations to explore the artefacts of human perception and memory processes by ultimately inducing a sense of ecstasy and contemplation. Computation is turned from being a formal, automatic writing technique into a creative, psychedelic practice to generate temporal hallucinations. A state of trance and wonder where the perception of time is distorted and challenged.
Equally nervous and ecstatic, the fast permutation of patterns can create a state where time stands still whilst simultaneously being in motion. Is this propulsive music moving forward or backward? As long as the perception of the present is constantly enhanced and refreshed in an endless sense of loss, re-discovery and the search for self-orientation this question lies mute aside the thrilling and perplexing moment of the matter at hand.
Ecstatic Computation reissue on light-years is now available for pre-order as LP (black and silver), CD and digital.
LIGHT YEAR REISSUE
light-years: ly001
Caterina Barbieri - Spirit Exit
Caterina Barbieri's 'Spirit Exit' is now available on 2LP (Black and coloured vinyl versions), CD and digital.
ORDER SPIRIT EXIT
"The musical vortexes of Caterina Barbieri rewire time and space. Listening to the Italian composer and modular synth virtuoso has felt like traveling at light-speed and slow-motion all at once since 2017's breakthrough double-album Patterns Of Consciousness. 2019's acclaimed Ecstatic Computation pushed even further with the lead single "Fantas", where a haunting melody hurtling towards its supernova climax felt like witnessing the life and death of a burning star. Far beyond any new age trope or modern synth trend, her music stands alone in its ecstatic intensity and cataclysmic emotional impact. Marking the debut album on her new label light-years, Barbieri now delivers her most profound work yet — a journey through inner-space as vast as a universe and as intimate as a heartbeat. The Spirit Exit opens and we fall in.

Spirit Exit is Caterina Barbieri's time machine, primarily composed with a modular synth rig she thinks of more like a mechanical fortune teller. Whereas previous releases were constructed on lengthy tours, capturing only snapshots of continually evolving works, Spirit Exit represents the producer's first album fully written and recorded in her home studio amidst Milan's two-month pandemic lockdown in 2020. It was during this extended isolation she found inspiration from female philosophers, mystics and poets spread across time, but united in their strength at cultivating vast internal worlds. St. Teresa D'Avila's foundational 16th century mystical text The Interior Castle, philosopher Rosi Braidotti's posthuman theories and the metaphysical poetry of Emily Dickinson act as thematic anchors throughout Spirit Exit, imbuing a life and death gravity into the composer's most perception-altering music to date.

More than any release before it, Spirit Exit crystallizes Barbieri's densely layered, blindingly bright synth arrangements while introducing stunning new elements that feel as if they've always belonged. Strings and guitar flawlessly thread into the composer's web of modular patches, while her revelatory singing voice often cuts right through them. Melodies remain Barbieri's great passion and obsession — she thinks of them as knots she's trying to untangle, existential metaphors formed through tensely spiraling arpeggios — and on Spirit Exit they grow as large as planets before cracking into atoms. Parts of one song can haunt another. The synth progression unraveling through "Knot Of Spirit" is reborn on "Broken Melody", an explosive peak with vocals that flash like a lightning storm. The sweeping "At Your Gamut" perfects the producer's dramatic, slow-burning openers, but in her first ever use of sampling, it later gets crushed, accelerated and unrecognizably transformed into the ghostly hook surging through "Terminal Clock" — an otherworldly sound rushing across what feels like the artist's first track for a dancefloor.

Caterina Barbieri's music has always transported listeners, its perpetual movement achieved through complexities that needn't be solved, but simply felt. Spirit Exit articulates that endless ascension — destination unknown, resolution always just out of reach — with a newfound humanity. It's the result of a one-of-a-kind artist deeply reflecting on what music means to them, only to return with an even greater understanding of what it can be. As the album closes on "The Landscape Listens" — a song that approaches death with all the gentle grace of Brian Eno's "An Ending (Ascent)" — it brings to mind the full line of Emily Dickinson's poem "There's a certain slant of light". "When it comes — the landscape listens / Shadows — hold their breath." Spirit Exit is a special kind of seance, an album so otherworldly and inexplicably moving it leaves even its ghosts in a stunned silence."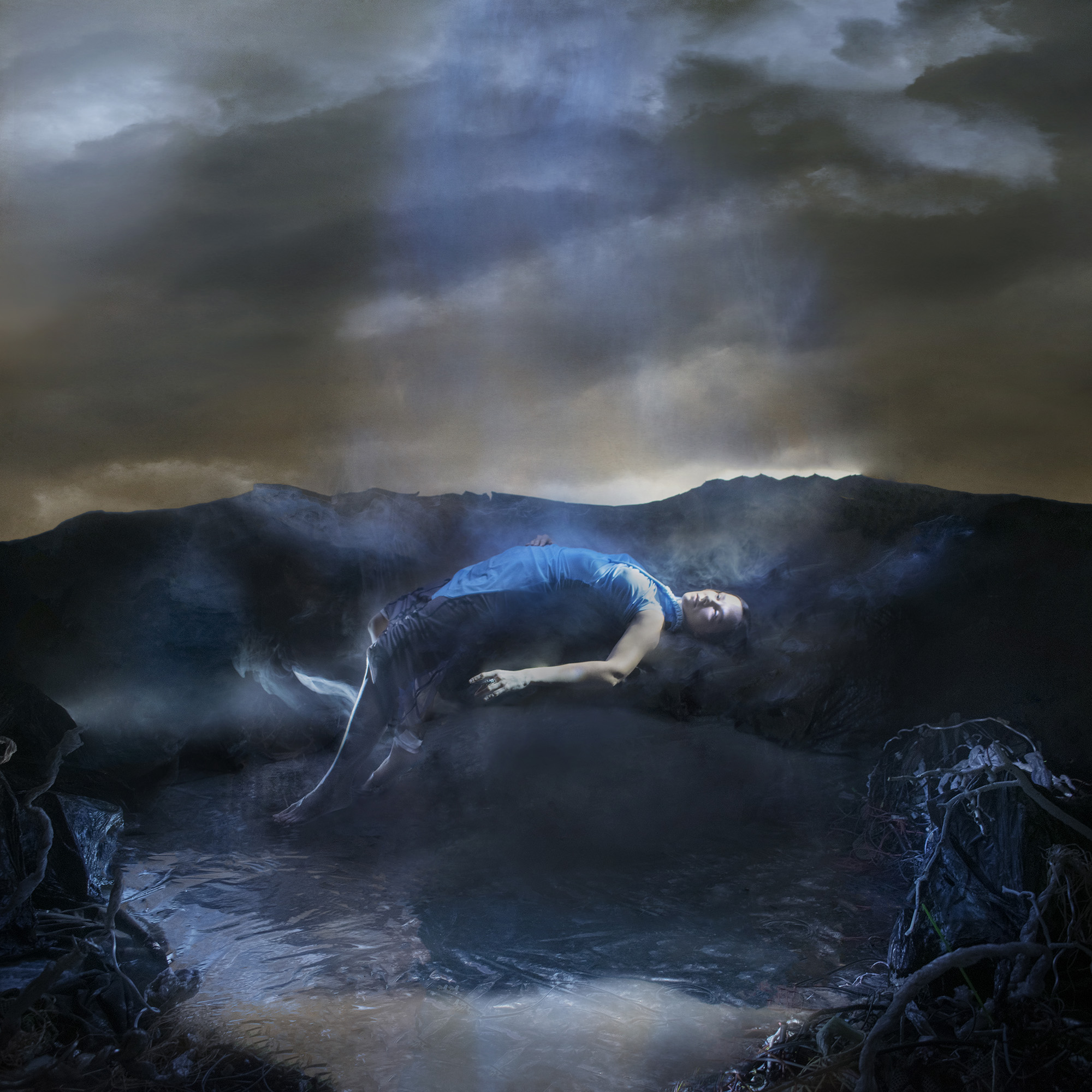 Caterina Barbieri
launches her new label platform
light-years
with the single release of
"Knot of Spirit"
featuring vocals by American artist
Lyra Pramuk
. The track functions like a statement of intent from the Italian composer and musician as she gestures towards the kind of enchanted and transmutational music-worlds that she will welcome onto the
light-years
label.
With a title evoking a metaphysical state of unresolved tension and enigma, "Knot of Spirit" blends synth and vocals into a sonic vertigo which oscillates alluringly between the mystical and the hallucinatory. Barbieri's whirling, haunting synth patterns interweave with Pramuk's other-worldly vocals into mirages of transcendence: time accelerates and decelerates in a trancelike spiral that erases any distinction between the inner and the outer worlds.
Barbieri pairs the single with a surreal oil painting by Russian artist Dasha Kuznetsova. The artwork seems to emanate from that same subconscious underworld of spontaneous and unmediated emotionality which Barbieri can uniquely conjure at the heights of her musical powers. This is a work of catharsis, a dark descent into the ineffable with an explosive, poignant and uncontrolled finale, "Knot of Spirit" is an erratic journey of impassioned endurance with the handbrakes off.
LISTEN
Oil Painting by Dasha Kuznetsova
Hand embroidery lettering by Tulpess
Video animation by Davide Busnelli.